Welcome to Iskra2000 V4,0 interactive introduction file
On the next couple of pages You will learn everything You need to know about proper installing, using, and getting the maximum of my new version of O.S. for Oric Atmos 64Kb
Please click one of the topics listed below:

Main_menu

In order to work, received file ISKRA2000V4.ZIP must be unpacked to exact folder, depending on the type of the Euphoric emulator installed onto Your computer; (see

Emulator_diferences below)
If You have folder TAPES within the Emulator's folder, file ISKRA2000V4.ZIP should be unpacked in it (folder TAPES)
If Your version of Euphoric doesn't have folder TAPES within the Emulator's folder, file ISKRA2000V4.ZIP should be unpacked directly to folder EUPHORIC
Usually, if You have Your Euphoric INSTALLED onto Your Computer, You'll have folder TAPES, but if You have just copied Euphoric.EXE and other files without installation, then You'll need to unzip and place all Iskra's files into EUPHORIC folder. /I myself have both

J /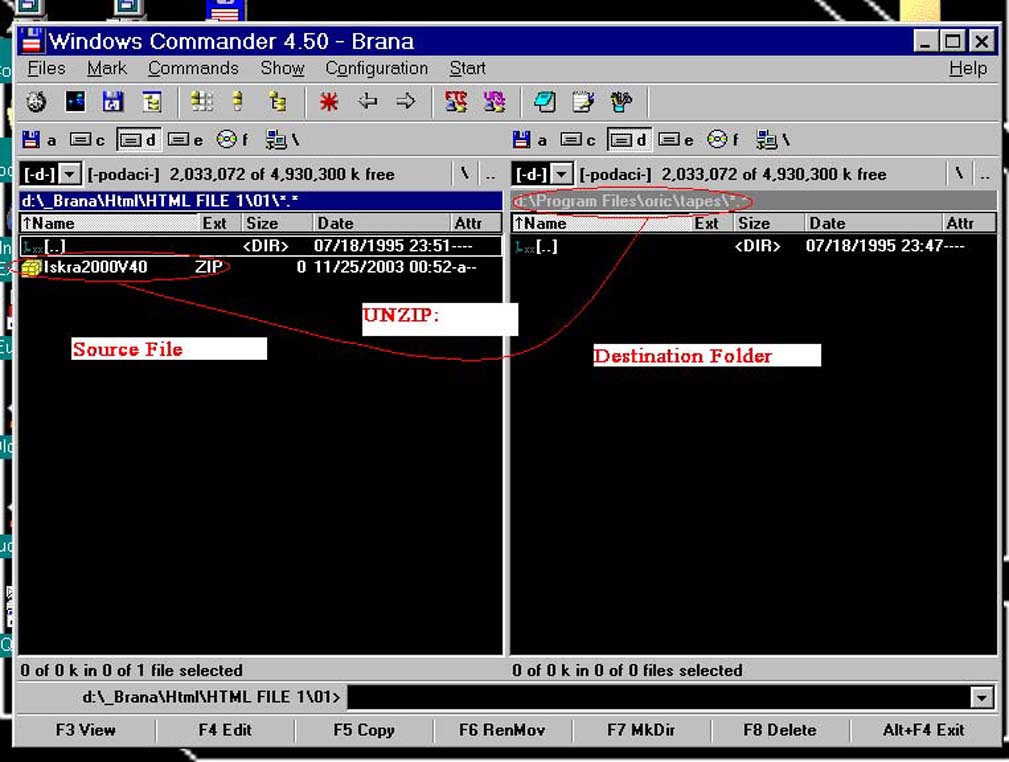 Unpacking_Iskra Main_menu

When using Iskra's utility for saving/loading User Files to/from floppy disk A:\,

You must run Iskra UNDER THE SAME VERSION OF EMULATOR to load her saved user files from floppy - as the one version of emulator that was previously used to run Iskra for SAVING THEM ON TO FLOPPY in the first place,

meaning;

If You, for example, run Euphoric that is

INSTALLED on to Your system, and use it for Iskra to store her user files to floppy disk, then - that floppy Iskra that is ran under the Emulator wich is COPIED on to Your system could not read (message "searching" will remain on the screen).

This problem is NOT due to Iskra's programming, but is due to the difference in the way how different versions of Euphoric Emulator access floppy disk drive.

Usually this should not represent any problem because the

User is always going to use THE SAME version of Euphoric Emulator when ever using Iskra on his/her computer, but may create difficulties when using Iskras on different computers (with different versions of Euphoric).

If this problem happens, here is how to solve it:
Open saved Iskra's User Files floppy disk in Windows Explorer, or in My Computer
If all files on the floppy have "TAP" extensions, and Iskra on your computer cannot read it, just select option "rename", and remove TAP extensions to all files (example: rename file named "
T_15.TAP" to file named "T_15")
If all files on the floppy have no extensions at all, and Iskra on Your computer cannot read it, do the opposite - use option "rename" and add "TAP" extension to all files on the floppy
Launch Iskra and let her read the floppy again. It will work!
Main_menu

After You have unpacked and placed all Iskra's files into appropriate folder, You MUST run Iskra's Setup program (file named SETUP.TAP, see the picture below for more detail)

Iskra's setup will configure Iskra's basic parameters and create additional (TAP) files needed for User to store it's data. App. 400 files with TAP extension will be created onto Your Hard Drive, in the same Folder where You placed Your Iskra. (click

File_list_of_Iskra to learn more)

Setup will take a couple of minutes to complete (on Oric's CPU speed 1 - 2 MHz)

Please do not force Iskra's Setup to operate on Oric's CPU speeds above 2MHz!

Setup is fully automated and will automatically launch Iskra when finished.

After Setup completes it's work, use RUN.TAP file to launch Iskra when wanted.

NOTE:

Iskra will use files created by her Setup.TAP to store User data. There is no need to launch Setup.TAP ever again after the first setting up of Iskra. If You launch Iskra's setup again sometimes in the future, it will display warning message. Should You select PROCEED option, it will erase all User data from Iskra.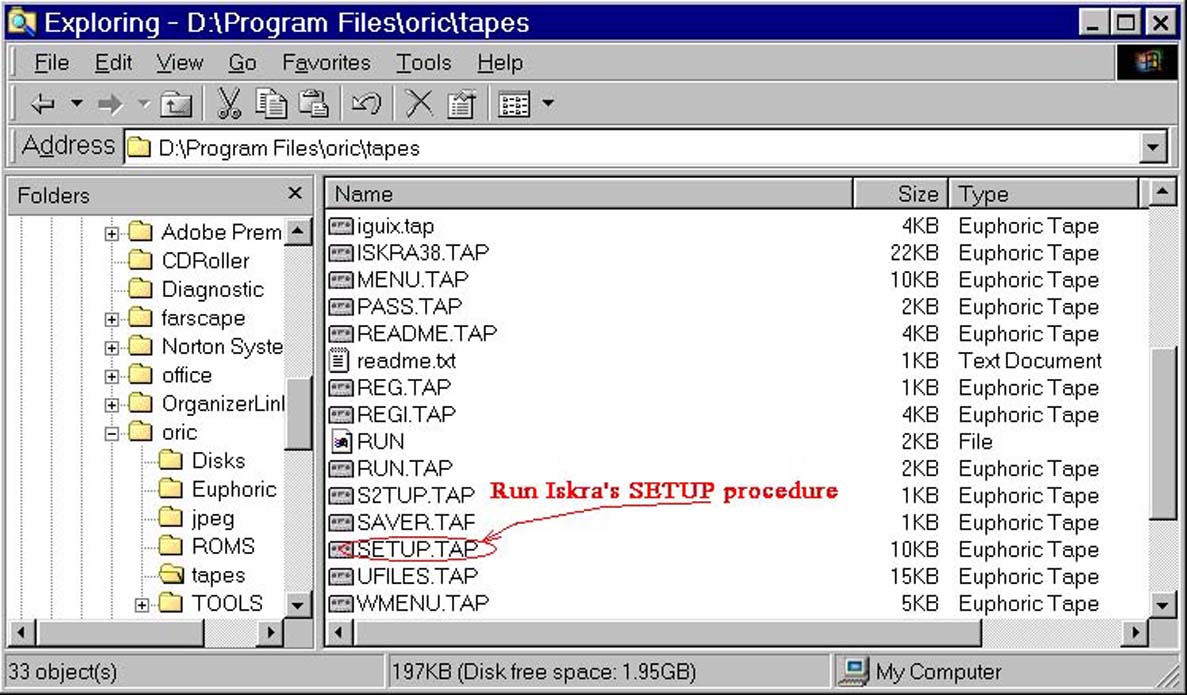 Main_menu
Main_menu
Unpacking the ISKRA2000V4.ZIP file You'll have the files listed below:
NOTICE: All what User needs to launch by double-clicking from Windows Explorer or by cloading from Euphoric itself are SETUP.TAP (to setup Iskra) and RUN.TAP (to use Iskra)
ALL OTHER FILES ARE Iskra's SYSTEM FILE AND SHOULD NOT BE LAUNCHED DIRECTLY!
| | |
| --- | --- |
| ANIM.TAP | Iskra's Lores0 Animator |
| CALC.TAP | Iskra's Calculator |
| FILE1.TAP | Utility for saving Iskra's Animations to a Floppy A:\ |
| FILE2.TAP | Utility for saving Iskra's textual User files to a Floppy A:\ |
| FILE3.TAP | Uploads saved Iskra's User files from floppy A:\ |
| FILE4.TAP | Utility for viewing the contest of inserted floppy A:\ |
| HIRES.TAP | Iskra's vectorgraph (Hires Animator) |
| IDIRECT.TAP | Iskra loads this file when User attempts to launch any Iskra's file directly |
| IGUIC.TAP | System graphic |
| IGUIW.TAP | System graphic |
| IGUIX.TAP | System graphic |
| ISKRA38.TAP | Old Iskra (V3) integrated |
| MENU.TAP | Iskra's list of available programs |
| PASS.TAP | System password, optional, for User to install |
| RAPORT.TAP | Iskra's status raport |
| README.TAP | Iskra's readme |
| REG.TAP | Iskra's main registry (REG) |
| REGI.TAP | Registration procedure |
| RUN | Launches Iskra by typing CLOAD"RUN" from Euphoric |
| RUN.TAP | Launches Iskra by double-click from Windows Explorer |
| S2TUP.TAP | Part of SETUP.TAP, creates AMENU.TAP and WMENU.TAP |
| SAVER.TAP | Iskra's screen saver |
| SETUP.TAP | Sets up Iskra, enabling her to work for the first time on specified comp. |
| UFILES.TAP | Iskra's DataBase Manager |
| WORD.TAP | Iskra's text processor |
| YUKEYS.TAP | Yugoslavian ASCII characters set |
Iskra's Setup will create the following files:
| | | |
| --- | --- | --- |
| Q_X.TAP | Iskra's file for saving X axis for Animator | 100 files |
| W_X.TAP | Iskra's file for saving Y axis for Animator | 100 files |
| C_X.TAP | Iskra's file for saving Color for Animator | 100 files |
| WRD_X.TAP | Iskra's file for saving text from Iskra's text processor | 100 files |
| AMENU.TAP | Iskra's file name list of animation files created by User | 1 file |
| WMENU.TAP | Iskra's file name list of textual documents created by User | 1 file |
X=0,1,2,3,4,5…100, example: Q_5.TAP, W_12.TAP, WRD_99.TAP
Back to:
Main_menu
All what User needs to know about proper using and getting the maximum of Iskra4.0 after she was properly installed onto Your computer is the following:
All Iskra's files MUST be together at all time, in one single folder (TAPES or EUPHORIC)
Newer delete nor rename any of Iskra's files (Iskra will stop responding). Delete ALL her files if You don't whant to use her anymore
Launch it ONLY by double-clicking RUN.TAP, or typing CLOAD"RUN".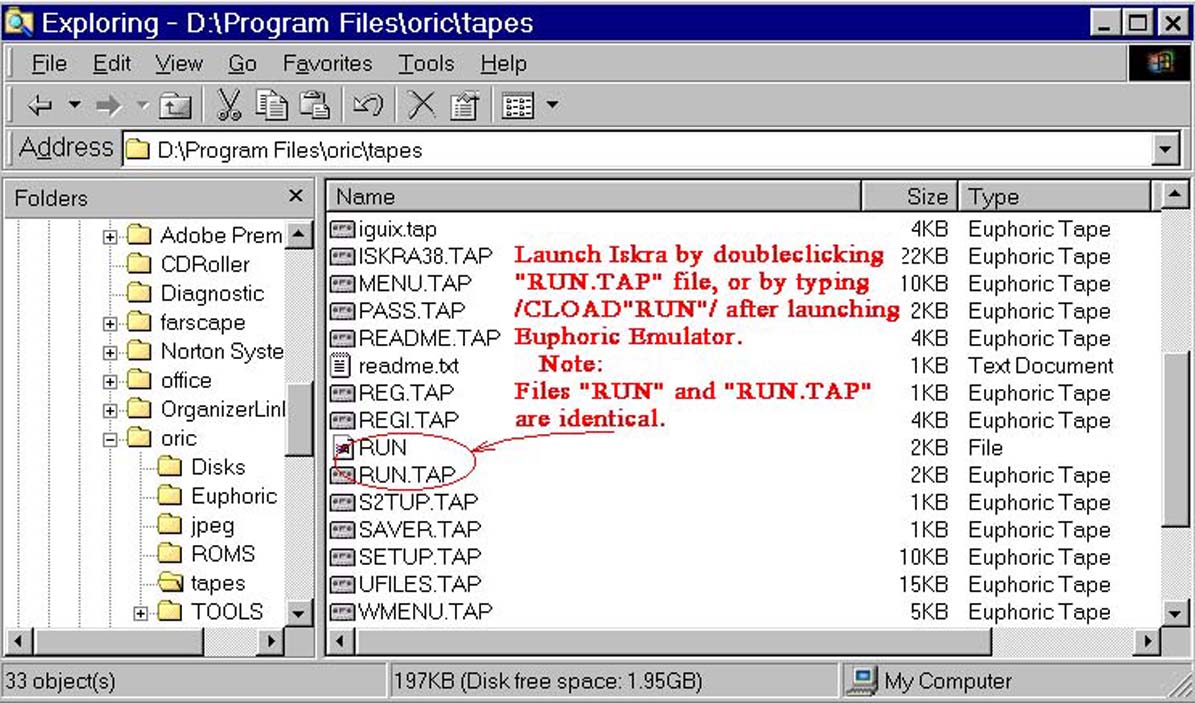 Since RUN.TAP must be in specified folder, You may create shortcut to this file in Windows Explorer for better convenience
DON'T attempt double-clicking or cloading any other Iskra's file except RUN.TAP and SETUP.TAP
This Iskra is all written on English language, she will always display her short help automatically and her complete help whenever "H" (for Help) is pressed while running Iskra. All her commands are logical and fail-safe. User has nothing to think or worry about!
| | |
| --- | --- |
| Iskra's on-line Help; at the bottom of the screen in the blue line (short help), and at the right part of the screen (in the red square) detailed help… | It's recommended that You Exit Your IskraV4.0 when she tells You it's safe (see the bottom of the picture below) |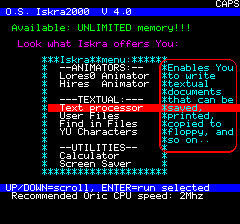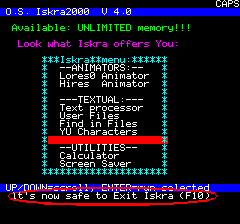 Iskra4.0 is optimized for Emulator's CPU speed 2MHz
Main_menu
Previous versions of Iskra, as well as my any other software were free of any charge, but not IskraV4.0; After setting her up, she will allow maximum of 31 CLOAD's (by using RUN.TAP file), and at each her startup screen she will notify the User about remaining launch number (see the picture below).When that number becomes 0, it will refuse any launching anymore, and will require to be registered. Therefore, You have the ability to evaluate the program received, if You grow to like it, You MUST register it in order to continue using it.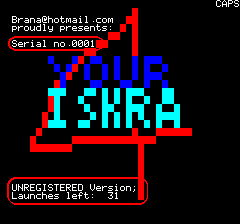 To Register Your copy of IskraV4.0:

Please send 25 Euros to the programmer's address below:

Gavric Branislav

Post Restant Mali Zvornik

15318 Mali Zvornik

---Yugoslavia---

With Your money, BE SHURE TO SEND the following:
Serial No. of Your Copy of Iskra (each copy of Iskra has its own serial number, which is displayed at her startup screen. Depending on the serial number of Your Iskra depends the Valid Registration Key which You'll received from me),
Your email, Your GSM Phone number, or Your Postal Address, which I'll need to use in order to send You back Your Registration Key for You to register Iskra4.0

After entering received Registration Key from me, Your Iskra4,0 will reactivate herself, enabling You to use most powerful Operating System written for Oric Atmos. All files created by User within Iskra before registration - will be available after registration, meaning Iskra will not loose any User file created - newer!
Main_menu

With Your Iskra V4.0 You can:

Create animations
in Oric's Lores0 mode; up to 100 Iskra's animation files can be created with this version of Iskra, with 2000 pixels per an animation. Full potential of Oric's Lores mode is supported. All failsafe and easy!

Create an animation
in Oric's Hires mode (vector-based drawing). Screen frames supported!

Create textual documents or user-arranged databases
of any kind! Up to 100 files of this kind can be created, managed and printed, with up to app. 9,5Kbt per a file. Ensured full help whenever needed. (Iskra's UserFile Manager is designed to work in a similar way to "OrganizerLink4" software from "Yellowsoft"!)

Export Iskra created User Files to Floppy Disk A:\
Iskra supports exporting up to 33 user created files or animations per an empty, 1,4MB formatted floppy disk. Great for exchanging documents created in Iskra on different computers, or via Internet. (Files that Iskra saves on Floppy can be zipped and sent via email! In order for another Iskra to read received email attachment, just unzip it on an empty floppy and run Iskra to read it!) See Emulator_diferences for more information regarding this subject

Expand Iskra's limitation of up to 100 User created files within Iskra;
just use Iskra to export your infrequently used User files to a floppy. Then delete those files in Iskra herself. Files will still exist, saved to Your floppy disk, until needed again, when Iskra can upload them from the floppy backup.

Use Iskra's
Calculator, Screen Saver, and few more similar, additional, small utilities
Iskra's applications pictures Main_menu

Iskra's welcoming screen (left),

------------------------- Iskra's main menu screen (right)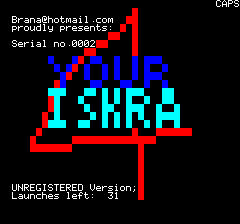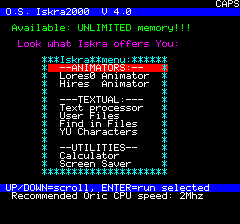 Load selected file screen (left),

------------------- Iskra's Lores0 Animator help screen (right)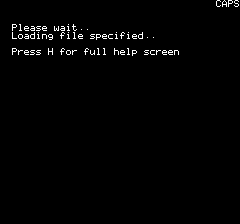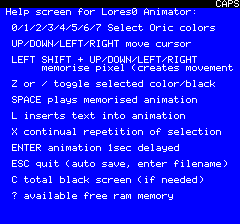 Lores0 Animator picture (left),

-----------------------Hires Animator picture (right)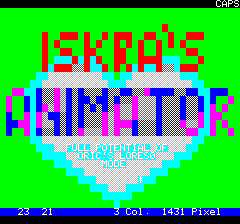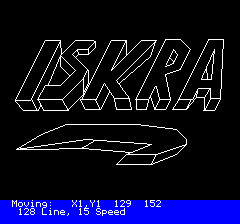 Iskra's Screen Saver (left),

--------------------------- Hires Help Screen (right)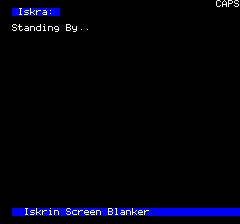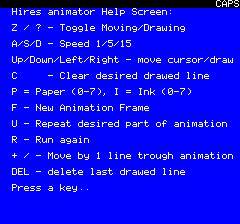 Iskra's Text Processor (left),

------------------------ Iskra's Text Processor Help screen (right)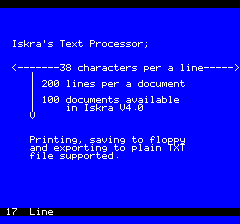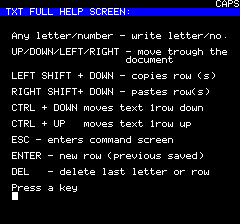 Illustration of Iskra's User File Manager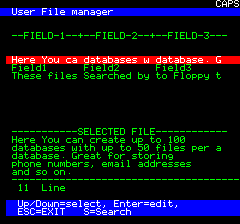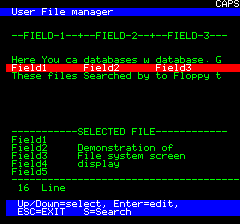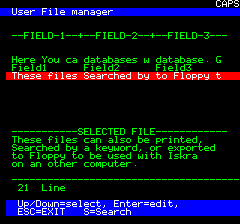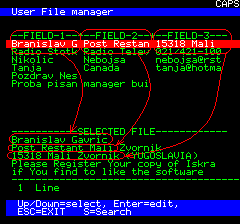 Export User files to floppy utility (left),

----------------------- Iskra's textual file find (right)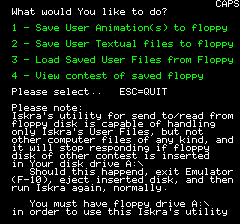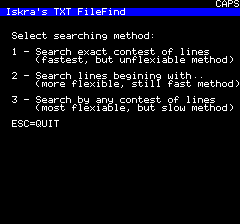 Iskra's Calculator (left)

. --------------------------------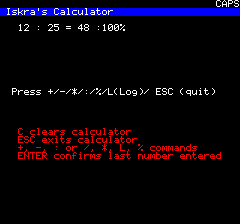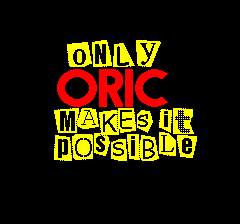 - To get Iskra2000 V4.0.ZIP file,

click on the link below to request the program via email.
Enjoy! ***Brana***

Request copy of Iskra2000 V4.0
(Email Link to Brana)

Before You continue, please read EULA written below:

- End User Licence Agreement:

Main_menu
Distribution of Iskra is not allowed to the End-User;
User has the right to install and use enclosed copy of Iskra on as much computers as the User have, but has no right to distribute enclosed copy of Iskra himself, to any other person, customer, nor a friend - via Floppy, CD disk, or the Internet. If You have a friend who is also interested in a copy of Iskra, please let him/her email me at Brana@hotmail.com or gokubulma@hotmail.com for a free trial copy of the software via email attachment.
User files
created with Iskra; animations, textual documents or databases - belong to the End User and he/she can do whatever he/she whants to do with them.

Iskra is designed to process User files in a fail-safe manner, meaning Iskra should never loose any User document created. Hovewer,
I will not be held responceable should any kind of data-loss ever happen.

Please raport a bug
(if any) regarding Iskra's software to my email.

Thank You for chosing Iskra2000

Branislav Gavric

27.11.2003

WebSite Created by:

---BULMA---

all rights reserved

End of document